Frank Farquaharson and Jessie Carmichael married on 8 August 1893 in Burntisland, Fife, Scotland.
Their daughter Mary Graham Carmichael Farquharson was born on 30 January 1895 in Edinburgh, Scotland. The middle name of "Graham" was given to her in honour of her maternal grandmother, Mary Graham.
Mary Farquharson emigrated to New York in 1904. Her father had gone sometime before them. Mary was 9 years old when she left the Scottish hills behind her and headed to the unknown land of America. They arrived at Ellis Island on 8 September 1904 on the ship "California".
The Farquharsons, along with Jessie's sister Elizabeth, made their home at Riverside Avenue, New York City.
Mary often went across the sea, presumeably to visit relatives in Scotland. She returned to New York with her aunt Elizabeth Carmichael on the Mauretania on 6 May 1910 aged 16. Again, in 1911 young Mary arrived back to New York from Liverpool on the Lusitania. this time she had been abroad with her mother, Jessie.
Mary Farquaharson was 17 years old when she fell in love with 18 year old Daniel Warner Marvin. She was still in school when they persuaded their parents to agree to the marriage. At first, both sets were against the wedding telling the youngsters "your both too young," but in the end they relented.
The wedding was an elaborate society function and following the ceremony, It took place in New York City on Monday 8 January 1912 in New York City. Daniel Beddell officiated. It was sometime thereafter that news of the wedding leaked out. On Tuesday 12 March, a second ceremony was performed at the home of Daniel's parents, Mr. and Mrs. Harry Norton Marvin. This time the ceremony was performed by the Rev. Dr. John Lyon Caughey, during which the ceremony was filmed.
The New York Herald reported the following story
THEIR WEDDING ON A FILM
A New York Couple Re-enacted the ceremony for a motion picture
To perpetuate the scenes of their wedding and to provide a keepsake for their family or descendants, moving pictures were taken following the marriage of Miss Mary Graham C Farquharson to Daniel Warner Marvin
Immediately after the brief reception which followed the service, the bridal party, accompanied by the clergyman, formed a motor car caravan to the Edison Biograph Studios, where a duplicate of the drawing rooms temporary altar was formed of scenery and floral decorations and the ceremony was dramatically repeated before the camera. While a phonograph finished the wedding music.
The guests most of whom were members of the family and close friends also posed, and more than a hundred films were used. Later the pictures will be shown to their friends privately and will remain in the possession of the young couple.
The newly married couple went on their honeymoon to Europe. On 10 April 1912, they boarded the RMS Titanic on their return home.
The Humeston New Era reported the following on 24 April 1912
"Mrs. Daniel W Marvin of this city, who was on a honeymoon trip with her husband, was almost prostrated when she reached the dock and learned her husband had not been picked up by some other boat.
"My God don't ask me too much," she said, "tell me have you any news from Dan?" He grabbed me in his arms and knocked down men to get me into the boat. As I was put in the boat he cried
"It's all right little girl, you go and I will stay a while. Ill put on a life preserver and jump off and follow your boat."
"As our boat shoved off, he threw a kiss at me, and that is the last I saw of him."
The picture above shows Mrs. Marvin and Mrs. Farquharson in New York, waiting for news of their children.
In October 1912, Mary gave birth to a baby girl, The posthumous daughter of Daniel Warner Marvin.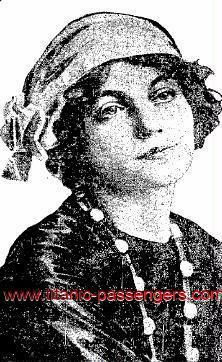 30 OCTOBER 1912 OAKLAND TRIBUNE
TITANIC SURVIVOR BECOMES MOTHER
New York Oct 30 -Announcement was made here today of the birth of a girl baby to Mrs. Daniel W Marvin of Riverside Drive. Mrs Marvin and her husband were returning hon board the Titanic from their honeymoon to Europe when the liner went to the bottom. Mr Marvin met his death and Mrs. Marvin was saved. It was said at her home that the mother and daughter were doing well. Mr and Mrs. Marvins marriage attracted some attention in New York because of the fact that a moving picture concern was employed to take a complete set of pictures of the ceremony.
At the time of the marriage the bride was only 17 years of age and the bridegroom 1 year older